Hotel
Breakfast:
8:00am-10:00am
Restaurant
warm meals until 9 p.m.
Closed on Tuesdays
5:30 pm - 11 pm
Mon and Wed
11:30 am - 2:30 pm
5:30 pm - 11 pm
Thu and Fri
11:30 am - 11 pm
Sat and Sun
Our Hotel
The Bayerischer Hof is only a few steps away from the Rödertor and therefore directly in front of the castle walls of the historic old town. After only 5 minutes you are in the middle of the picturesque old town and another 5 minutes later on the market place in the center. From there you can reach all the sights of the city of Rothenburg ob der Tauber. The train station can also be reached on foot after a 5-minute walk in the other direction.
Our hotel looks back on a long history and is already celebrating its 125th birthday. The house was built in 1896 and last extensively refurbished and renovated in 2021.
The hotel has 12 rooms with a total of 25 beds on two floors. The rooms can only be reached via stairs.
Budget Room
With a double bed and a view of the garden.
From 70 €
Standard Room
Two single beds and a view of the garden.
From 74 €
Traditional Room
Bookable as a 2-3 bed room, partly furnished with antique Voglauer furniture.
From 85 €
Superior Room
With double beds & single beds, renovated or newly built in June 2021.
From 95 €
Junior Suite
For 4 people, master bathroom with bathtub & XXL rain shower, newly built in June 2021
From 130 €
Rooms & Suits
We have a selection of traditionally furnished rooms (doubles and triples) with antique "Voglau farmhouse furniture", superior double and twin rooms in a modern country style and a luxurious junior suite ideal for a family. Many of our rooms can be equipped with extra beds. Pets are also very welcome. We ask you to indicate both upon request when making your reservation.
Our Equipment
Our twelve friendly and bright non-smoking rooms are perfect for families, couples, friends, business people and those looking for peace and quiet. In June 2021 all rooms got new mattresses, blankets and pillows. The rooms are all equipped with their own shower/bathtub, toilet, hairdryer, TV and some with a sofa or seating area. There is free WLAN access throughout the house or via the local network provider Rothenburg Freifunk.
Parking
WiFi
TV
Bath
Breakfast
Cots & extra beds
Pets allowed
Charging station for e-bikes
Our Restaurant
Tauber air makes you hungry! With a good glass of wine, a freshly tapped beer and delicious home-made food, you will feel in good hands in the guest room and in the beer garden of the Bayerischer Hof.
Experience a cozy evening in a relaxed and warm atmosphere. Visit us and make up your own mind. We look forward to seeing you!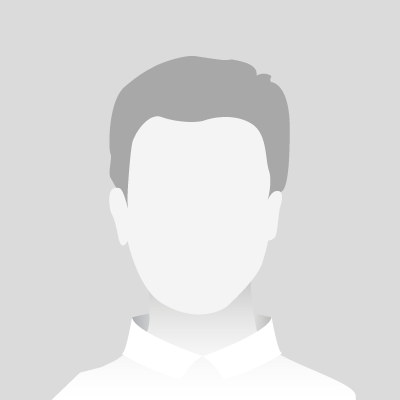 "A very nice and individually designed hotel with comfortable and clean rooms. We stayed with our daughter in one of the newly renovated rooms, including a cot. We enjoyed the individual and loving care with delicious food. We were completely satisfied and would love to come back."
Martin Holthusen
from Hamburg, Germany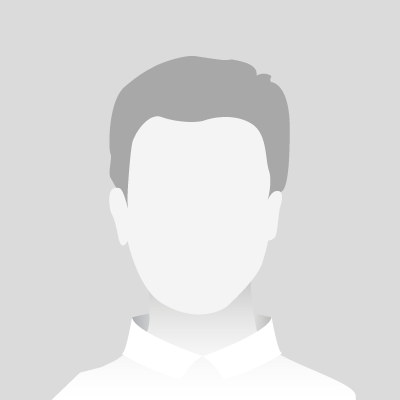 "Super friendly and flexible innkeepers, brilliant breakfast with everything imaginable in the cozy dining room. If you need something that we didn't have, it's no problem to reorder. We could easily park our bikes in the locked backyard at the bike parking lot. An all-round successful stay, we will definitely be back."
Emmerich Leitz
from Berlin, Germany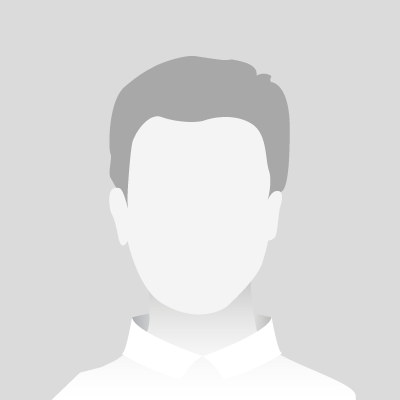 "Located directly in front of the old town, the hotel was the perfect starting point for our excursions into the Tauber Valley. In addition, super freshly cooked food, we didn't have to think about where to go in the evening. The freshly tapped Augustiner beer on tap was a dream for my husband."
Katrin Fabel
from Dusseldorf, Germany
About us and about Rothenburg
There is more to it than just Bavaria: at the gates of the old town, we create a combination of Bavarian hospitality and cosmopolitanism. We are passionate hosts and want to preserve traditions in our hotel and restaurant and continue the legacy of the old owners, but also create something new and incorporate our own personal, modern touch.
Jenny takes care of the hotel management and your well-being: "Your well-being is important to me and it is particularly important to me that you feel at home with us. If you have any questions or requests, please contact me at any time."
Markus is our head chef and brings his experience as sous chef to the Café Reitschule in Munich: "In my kitchen, I reinterpret the classics and think of regional ingredients as international. If you like trying new things or appreciate the tried and tested and are looking for something special, then you've come to the right place – whether you're a Rothenburg resident or a tourist."
The new owner of the Bayerischer Hof is Armin, an entrepreneur from Munich who leads the young and dedicated team. His partner Carolin accompanies the development of the structures and manages the marketing.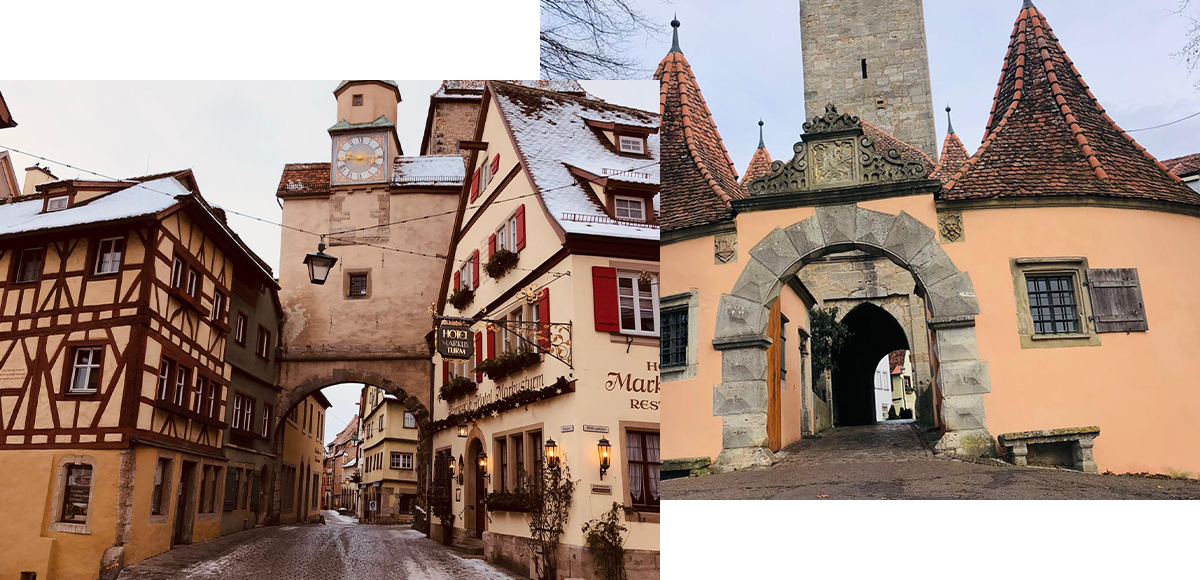 The house of the Bayerischer Hof celebrates its 125th anniversary in 2021 and comes out of the lockdown this year with a new coat of paint and new owners. But the house can also look back on a long history in terms of gastronomy. The house was run by the Schellhaas family for two generations until 2020.
In January 2021, the guest room and the kitchen were completely renovated and expanded. A lot of old furniture and materials were reused. For example, a counter panel was created from old doors and new lamps for the guest room were made from old copper and brass cooking pots. Some of the guest rooms on the first floor have also been renovated and new bathrooms installed. On the second floor, new apartments and rooms have been created from the previous living quarters, which are also suitable for families.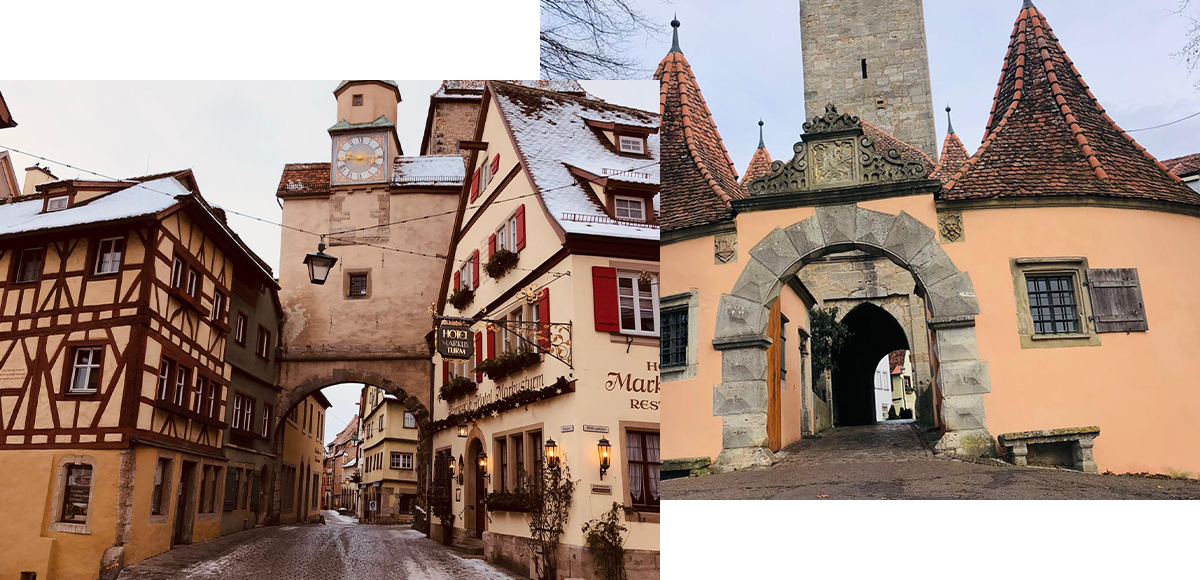 Sights, above all the medieval old town within the historic city wall. Embedded in the Tauber Valley, the small town in Middle Franconia has a multitude of authentic and charming highlights to offer with the Rothenburg Turmweg.
Here we introduce you to our favorite places. For more tips, please contact us.
Topplerschlösschen: The beautiful Topplerschlösschen is always worth a visit. The seemingly small house balances on a kind of defense tower. After it was built in 1388, it served two purposes: on the one hand, it was Rothenburg's defense tower and, on the other hand, it was the home of the mayor, Heinrich Toppler.
Plönlein: The Plönlein is one of Rothenburg's landmarks and one of the most popular photo motifs for tourists. If you translate the term, it means "small square at the fountain". What many people don't know is that the Plönlein not only includes the beautiful yellow half-timbered house, but also the two defense towers to the right and left of it. In earlier times, fish was stacked here.
Castle garden: The romantic castle garden can be reached via the castle gate and forms the green oasis of Rothenburg. Here you will find the perfect place to take a break on a bench and enjoy the fantastic view of the Tauber Valley, the vineyards and the old town.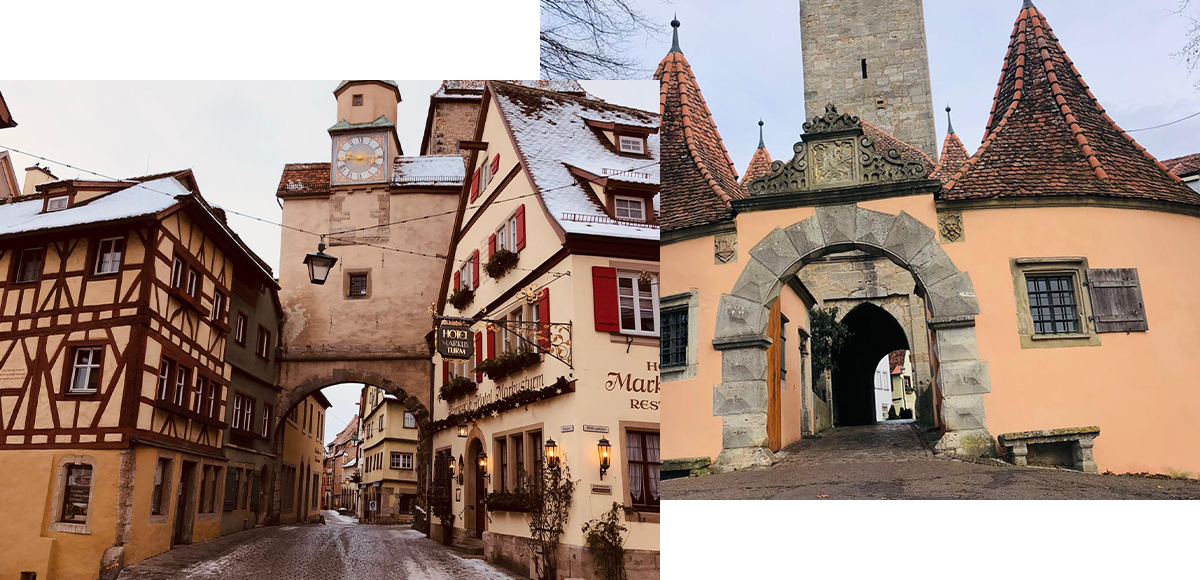 Hotel
other times by arrangement
Breakfast: 8:00am-10:00am
Check In
2 pm - 8 pm
Check Out
10 am
Restaurant
warm meals until 9 p.m.
5:30 pm - 11:00 pm
Mo and Wed
11:30 am - 2:30 pm
5:30 pm - 11:00 pm
Thu and Fri
11:30 am - 11:00 pm
Sat and Sun